On-Demand Payments for Your Business and Workforce.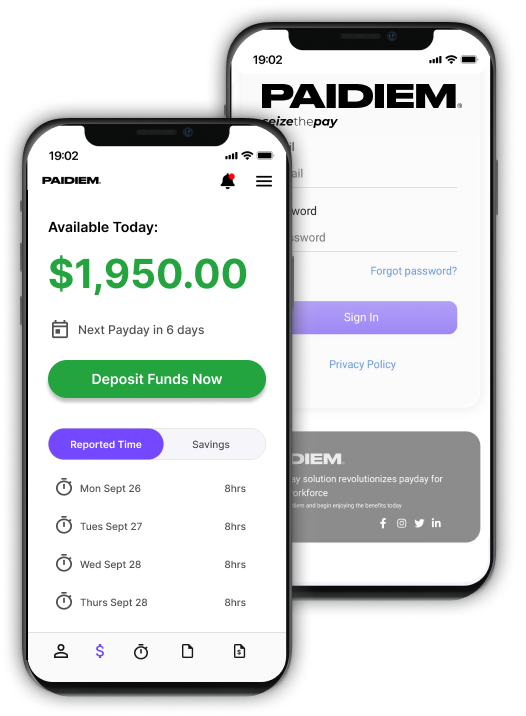 Paidiem

Modernizes

How Your Business

Pays Workers

,


Retains Workers

and

Automates Process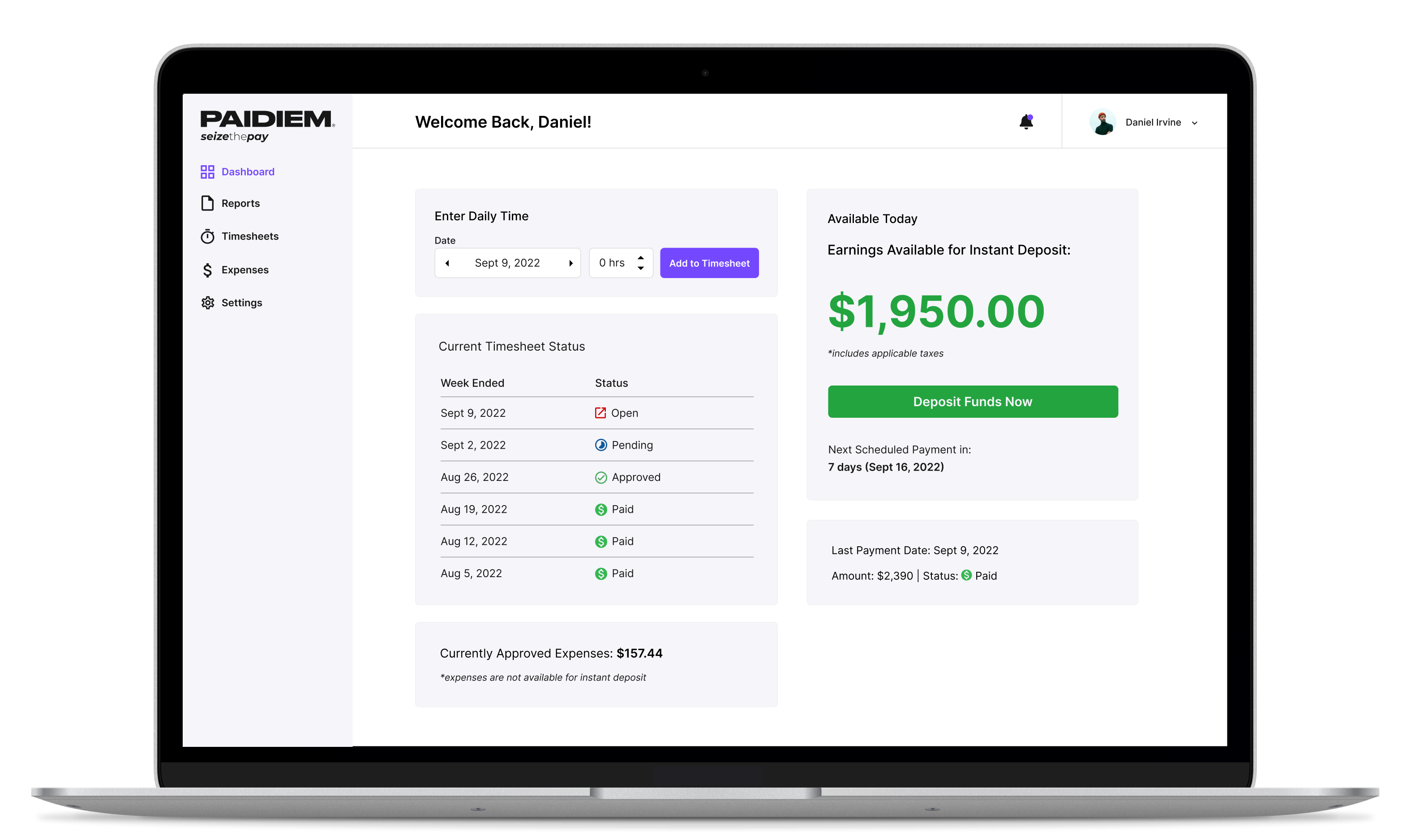 Our All-In-One Workforce Management System gives you the competitive edge to attract and retain workers and scale your business to new heights
" Paidiem is my golden fruit. It gives me time back in my day to focus on my core role and responsibilities. A once onerous task has now become so easy. "

Lizz. C - Client Manager
The

Payments

& Wellness Platform

for All Industries:

Why Choose

Paidiem

for Your

Organization

?
Attract & Retain Talent





Attract and retain top talent and

reduce workforce turnover rate

by over

20%

!



Unlock Your Capital





Paidiem

pays your workers on demand

- you don't need to change a thing.
Back-Office Automation





All contracts and data sync'd together, attract, retain and

driving speed and accuracy in A/P & A/R.



Frequently Asked Questions
Cant find what you need? Get In Touch
Who is Paidiem For?


Paidiem is for contingent-based professionals and the companies who hire and engage them
---
How do I get started?
Businesses can contact our Sales Team HERE! If you are a Freelancer - Refer Your Employer today to get started.
---
Is Paidiem currently Available where I live?


Paidiem is currently available to service every province in Canada and every state in the USA.
---
Who started Paidiem?


Paidiem was founded by Staffing and Workforce Experts with a vast support team of expertise in finance, recruitment, technology and business.



---
Is it safe and secure to use Paidiem?
Paidiem uses the best technology available today to keep you safe and secure. Data security and privacy is of utmost importance to us and we take the vital steps needed to ensure the security and privacy of your information. If you'd like to learn more about the safety and security of using Paidiem, check out our Privacy Page.

---
My Business is not a Staffing or Recruitment Agency - is Paidiem still for me?


Paidiem is for contingent-based professionals and the companies who hire and engage them
How quickly can I start using the Paidiem Platform?


Most of our customers are up and running within 2 weeks. Our Paidiem Onboarding & Implementations is streamlined, and our dedicated account representatives can advise on timelines throughout the experience.
---
Can Paidiem integrate with my existing platform and/or processes?


Yes.
---
How does Paidiem help me catch up on my Receivables?


Paidiem offers Employers the ability to both pay their workers on demand and finance your receivables.
---
What about taxes and remittances?


Paidiem will handle all payment and remittances necessary to pay your workforce and run your business.



---
How much does Paidiem cost?
Paidiem?
Our tiered pricing model ensures that you get the best solution that fits the capacity and needs of your business - Contact Sales to get a free quote.

---
What is meant by "Contingent"?


Contingent workers go by many names: freelancer, 1099, gig worker, W-9, consultant, contractor, solopreneur - these individuals are not a part of a company's payroll because they work on a contract basis. Paidiem services Incorporated Individuals, Sole Proprietors and W2 /T4 or "payrolled" employees.
---
What is Income On Demand?


Also referred to as earned wage access, Income on Demand means that workers can deposit all or a portion of earnings instantly, in advance of their scheduled payday.
---
What is "Back-Office" Administration?


We're referring to almost everything related to the internal processes of a business that deal with workforce payments, time, attendance and approvals, invoicing, contract management, client billings, financial reporting and more.
---
What is "Financial Wellness"?


We like to say that financial wellness is the ability for any individual to have control over their income, enabling a healthy financial life and being prepared to handle any financial crisis they may encounter.



---
What is Workforce Management?
Workforce Management refers to the processes, softwares and tools a company uses to optimize productivity. Paidiem is an all-in-one workforce management platform, keeping everyone and everything on track in one place.

Where does Paidiem deposit my money?
Paidiem deposits all payments directly into your bank account.

---
How fast do my approved earnings become available for advanced deposit?
Instantly. Once your time is approved, you can deposit your earnings.

---
Do I have to pay a fee for Income On Demand?
Depending on your account, Paidiem charges a small fee which can range from 0.5% - 2.9%.

---
What about taxes?


​​The Paidiem Platform automatically calculates and applies taxes to your payments - dependent on your employment classification.



---
What happens after I submit my timesheet in the app?


Paidiem automatically sends your timesheet for approval. Upon approval, Paidiem generates all reporting and paperwork on your behalf.



---
I want my Employer to use Paidiem - how do I do this?
Please submit the Refer Your Employer Form - we will reach out right away.

Lets Work Together
Ready to take the next step towards financial empowerment? Book a demo today!