Paidiem is Designed to Drive Talent Attraction & Retention
Get the Competitive Edge You Need to Empower and Expand Your Workforce
Proof in Numbers
Paidiem's average client base has seen

contract sales increase by 50%
We've seen an average of 3 out of 5 workers being redeployed on assignment, enabling teams to fill roles faster.
Streamline Operations
Paidiem makes

once highly manual processes

fast and

easy
Our cloud-based platform has been shown to reduce time previously spent on admin by over 65% which boosts profit margins.
"You've

created my invoice

AND I can get paid when I want!?


This is awesome!

"

Marilyn C. - Incorporated Consultant
"First things first, I am

really impressed

with the

power of Paidiem

. It's an easy and efficient platform."

Rikhi T. - Incorporated Consultant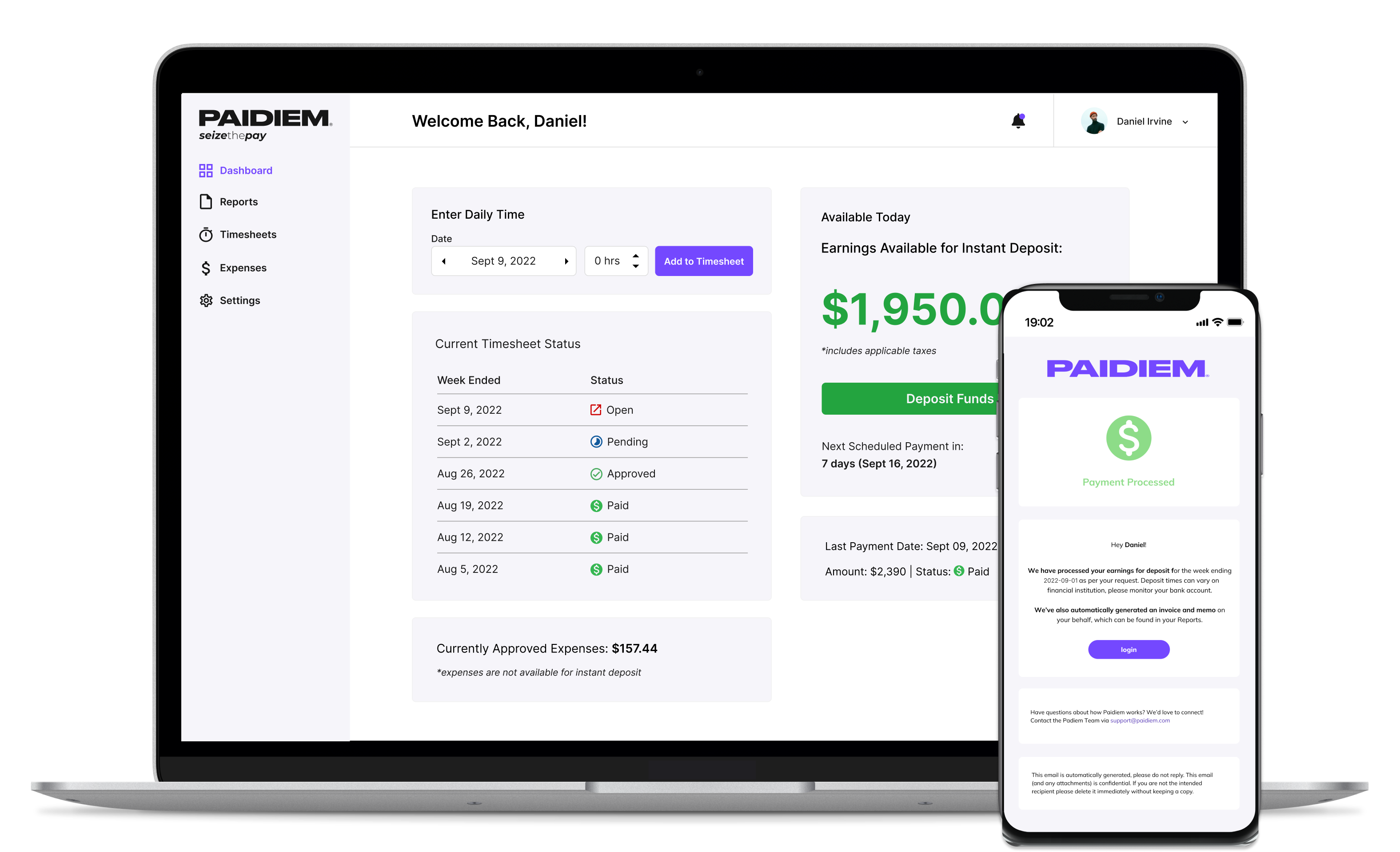 Income On Demand
Advanced Pay & Daily Pay Options
For Any Classification of Worker
The job market is the most competitive it has ever been - employers can differentiate themselves and attract more applicants by leveraging Paidiem's Income On Demand as an employment benefit.
Learn More

Contractors can opt into a flat-fee subscription service that gives them instant-deposits as soon as their timesheets are approved, at zero extra cost to their employer or agency.

Paidiem's flexible Income On Demand options empowers workers to take control of their finances which reduces employee financial stress and supports financial & mental wellness - all which increases productivity, improves focus and performance, and builds trust between employee and employer.
Payroll & Payments Processing
Workforce Payroll Management
Paidiem Financing & B2B Payments
Paidiem offers staffing firms the ability to have Paidiem cover all external contractor payments, both bridging timing of payroll and payroll advanced payments.
Learn More

Our automated & verified payroll and payments process frees up working capital and reduces the risk and complexity of having to manage different payables. The business and the workers receive on-time and accurate payments!

Book a Demo today to find out how Paidiem's financing options can modernize your business and unlock your capital!
Ask how we promote talent retention & attraction and drive your revenue!